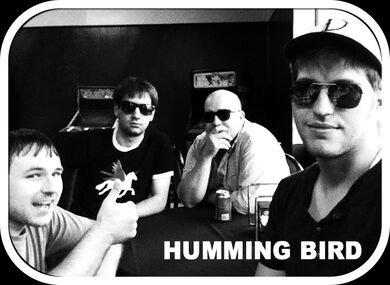 Humming Bird is an American alternative rock project by Jack Mergist, Martin Michalek, and Kody Yardley who began it during a Lunatic hiatus. It is a supergroup of sorts, incorporating a rotating cast of members from bands like Plume, Two Pale Zeros, Sandbaby, and Ed Hpeoj of The Fapping. Originally, all of the songs lead vocals were sang by Marisol "Paz Cola," who had been introduced to Martin and Jack via a mutual friend earlier that year. A falling out between Marisol and Martin during the wrap of the album prompted him to re-record all of her vocal tracks. The general sound has been described as "happier, more upbeat, pop music."
Their debut album, Hey, There's Tommy! Hey Tommy, Where's Mom & Dad? was released on October 15, 2011.
Humming Bird in the press
Edit
thumb|right|400px|Jack and Martin being interviewed.In preperation for the band's only show, they were interviewed and a video was released online.
Live performances
Edit
Humming Bird songs have been played live very few times and only one full band show was ever played. Fans have occasionally shouted out the names of Humming Bird songs at Lunatic shows prompting verbal backlash from Jack and Martin. (Kody will usually attempt to play the "Raincloud Love" riff.) Humming Bird's show was characterized by its high energy, insulting banter, declarations of rock's death, stage destruction, and cross dressing.
Date
Location
Song(s) played
Notes
October 5, 2011
Muse Music Café

"Sucker Stick"

Only Jack and Martin present. Jack played guitar and both sang. Unknown if recording exists.
November 6, 2011
Lee's Music

"True Poet"
"Cherry Stain"
"Sucker Stick"
"Coats of Sunshine"
"Djinn Djinn"
"Sha!"
"Dizzy Wednesday"
"Sarah, I Know"

Secret show. Jack and Martin on guitar, Kody on piano, all three on vocals. Video exists of most songs. Soundboard audio recordings exist of entire show. Only a "Sucker Stick" video has been released.
November 8, 2011
Velour Live Music Gallery

"Sha!"

Kody on acoustic guitar, Jack and Martin on vocals. This video is on the Humming Bird YouTube channel.
November 28, 2011
Muse Music Café

"Cherry Stain"
"Sucker Stick"

Jack and Martin on acoustic guitars and singing. Video recording exists.
December 8, 2011
Muse Music Café

"True Poet"
"Cherry Stain"
"Pretty"
"Sucker Stick"
"Dizzy Wednesday"
"Raincloud Love"
"Sha!"
"Coats of Sunshine"

Humming Bird's lone full band performance. Matt Humes replaced Ed Hpeoj (who was unavailable for the show) on drums. Multi-cam recording of entire show exists.
Community content is available under
CC-BY-SA
unless otherwise noted.